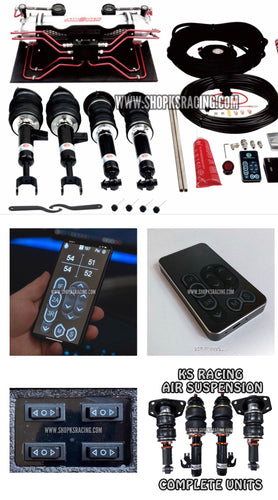 2021 KS RACING PREMIUM WIRELESS 5G AIR SUSPENSION SYSTEM MAKE AND MODEL LIST
We are announcing our newly released KS RACING Premium 5G Wireless Air Suspension Systems. Full front and rear kits with management system all prebuilt ready to go. 
MAKES & MODELS LIST:
MANAGEMENT UNIT:
✅ Management/Control Unit Control Unit Comes Pre Built On Display Board (ready to be wired up immediately.)
✅ Hard Tube Used On Management Unit
✅ Hard Tube Colour Options: Gold, Black, Silver, Red
✅ Feature: Rise On Start
✅ Feature: Auto Levelling 
✅ Feature: Constant Air Pumping To Maintain Set Air Levels
✅ Australia Metric Fittings
✅ Single Pump or Dual Pump Option
REMOTE CONTROLS: 
✅ Wired Remote Control
✅ Wireless IOS & Android Smartphone Application Control
✅ Backup Hard Wired Switch
✅ 3 User Set Height Memory Option
✅ Independent Corner Control
✅ Front & Rear Control
✅ Right & Left Control Control
AIRBAG COILOVER/STRUTS:
✅ 3 Way Adjustment: Chassis Height, Bag Pressure, Dampening Control
✅ Air Pressure Controlled Air Bags
✅ KSPORT Australia Coilovers or Struts (depending on make and model)
✅ Complete Units With None Or Minimal Modification Required (depending on make and model)
✅ System All Fully Rebuildable and/or Replaceable
✅ All Stock & Replacement Parts Kept In Stock In Australia
✅ Suitable for Street, Show or Track Use.
https://drive.google.com/file/d/1JzMcXsjHArEVV4x-dL3_ImHjZ3ev1ehe/view?usp=sharing
https://drive.google.com/file/d/1omGNPYgFMecs3_zZkRW1ml2NZHZfZEn2/view?usp=sharing