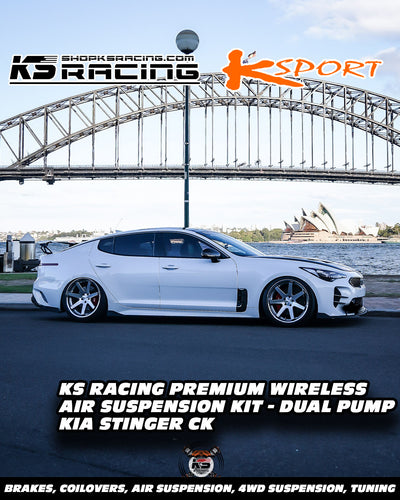 AUSTRALIA'S FIRST BAGGED KIA STINGER - KS RACING | KS Racing |

➖➖➖➖➖➖➖➖➖➖➖➖➖
Mario brought his beautifully built Kia Stinger all the way from Melbourne to have us install a set of our KS RACING Premium Wireless Air Suspension Kit.
Running on air allows for great driving comfort, performance, adjustability & aesthetics. Mario's fitment is set so that when he airs out, his tyres just sit on the wheel arch without damaging the panels. 

Ride Low, Park Lower and Lift Up When Required.
No More Scraping And No More Worries When Riding Low.

Feature Video in Instagram Reels, Facebook Page & Youtube.
➖➖➖➖➖➖➖➖ ➖➖➖➖➖
🚗 Kia Stinger CK: Mario @supasoul
🎥 LUCKYSTAR VISUALS Instagram: @luckystar_visuals
https://www.instagram.com/luckystar_v...
🧥 KS RACING MERCHANDISE
https://shopksracing.com/collections/...

➖➖➖➖➖➖➖➖ ➖➖➖➖➖

🖥 : www.shopksracing.com
🖥 : www.ksracing.com.au
☎️ : 02 9905 9523
📧 : info@ksport.com.au
📍 : 39 & 43 Winbourne Rd, Brookvale, 2100, NSW
🔵Facebook : KS RACING TEAM AUSTRALIA
https://www.facebook.com/KSRacingTeam...
🔴YouTube : KS RACING AUSTRALIA
https://www.youtube.com/channel/UCPVr...
🔵Instagram: KS RACING TEAM
https://www.instagram.com/ksracingteam/

➖➖➖➖➖➖➖➖➖➖➖➖ ➖
#ksracing #ksracingteam #ksracingairsuspension #ksportcoilovers #ksportaustralia #ksport #airridesystem #airridesetup #KIASTINGER #SLAMMEDKIASTINGER #BAGGEDSTINGER #carporn #coilovers #stancenation #northernbeaches #KIA #STINGER #stancenation #airbagged #slammed #bagged #loweredlifestyle #brookvale #superstreet #aussiecommodores #slammedsociety #slammednation