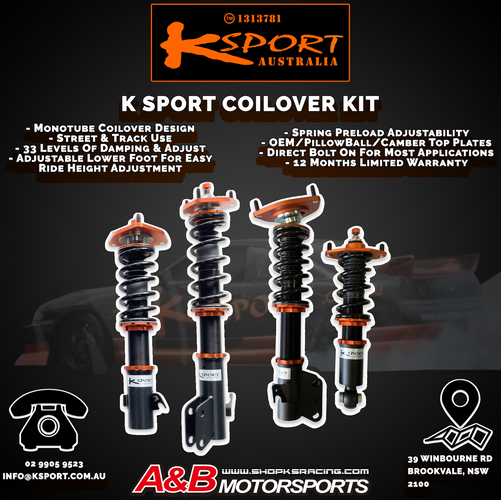 K SPORT Coilover Kits Provide The Ultimate in Suspension Technology For Your Street and/or Track Car.
K SPORT Coilovers use a monotube strut design where the oil and gas are separated within the cyclinder. When compared with standard suspension or twin tube designs, the monotube dissipates heat more efficiently, allowing for finer damping adjustments as the larger piston valves create a wider area to receive pressure and eliminates aeration and cavitation as the oil and gas are completely separated.
FEATURES:
33 Levels of Damping & Rebound Adjustment.
Anodised lock rings and top mounts made from 6061-T6 aluminium for increased durability.
Adjustable lower foot, allowing maximum suspension travel and adjustment.
Adjustable Camber Top Mount on vehicles with McPherson type suspension
Pillow Ball Top Mount for increased steering feel, control and comfort.
Monotube strut design for better heat dissipation, sensitivity & light weight.
Electroplated body for added protection from corrosion and rust
Dust boot covers to protect damping seal.
Made to meet Motor Vehicle Standards Regulations, TUV / ISO, TUV Osterreich, FIA Standard, National Environment Protection Council (NEPC), National Transport Commission (NTC), ADR and Australian RMS.
12 month limited warranty
Australian K SPORT coilover kits have been designed specific for the professional Australian circuit racing and road conditions offering extremely high value and performance. 33 levels of damping adjustment allow you to fine tune the ride to your handling and comfort needs. The damping adjusts compression and rebound simultaneously with ease. Aluminium rubber tops in the front and rear of some applications allow you to maintain vehicle manufacture suspension geometry designs. The aluminium rubber tops also provide a more direct feel for solid driving response. Where available, camber tops can be provided for camber adjustment. K SPORT Coilover kits for the Australian Holden Commodore & Ford Falcon have been designed specifically with longer shock travel, increased shaft size and custom spring rates to suit the big horsepower and heavy footers.