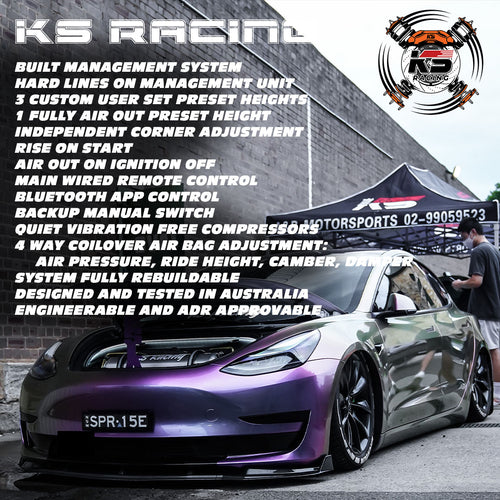 KS RACING PREMIUM AIR SUSPENSION KIT INSTALLATION & USER GUIDE
KS RACING AIR SUSPENSION SYSTEMS
All KS RACING Air Suspension Systems feature high quality durable air bag coilovers and management units proven to handle the stress and abuse of daily driving, drag strips, burnouts pads, drift circuit and track use.
Take advantage of the near infinite adjustability thanks to the adjustable lower foot, 33 levels of damping & rebound adjustments, the unmatched increased shock travel of 100-160mm and the air bag pressure adjustability of 0-140PSI.
Our Air Suspension kits are designed for an easy bolt-on installation, otherwise very minimal modification required. Complete custom kits are also available to suit your vehicles specific specifications, requirements or needs.
Management unit all comes prebuilt on display board ready to be put straight to use & show ready presentation.
FEATURES:
- KS RACING Heavy Duty Double or Triple Bellow Air Bags
- K SPORT Monotube Air Bag Shocks
- 33 Levels of Damping & Rebound Adjustment
- Adjustable Lower Foot
- Primary Wired OLED Remote Control
- Bluetooth Smartphone App (IOS & Android)
- Back Up Manual Switch
- 4 System Memory Presets
- Independent Corner Adjustment
- Front, Rear, Left or Right Adjustment
- Auto Levelling
- Rise On Start & Air Out On Ignition Off
- Dual Quiet Pumps On Vibration Free Stands
- Air Tank & Pump Pressure Sensor
- Air Tank Automatic Pressure Release Valve
- 8 Independent Valve Solenoids
- Repairable/Replaceable ECU Units & Power Box
- System Able To BE Engineered in Australia