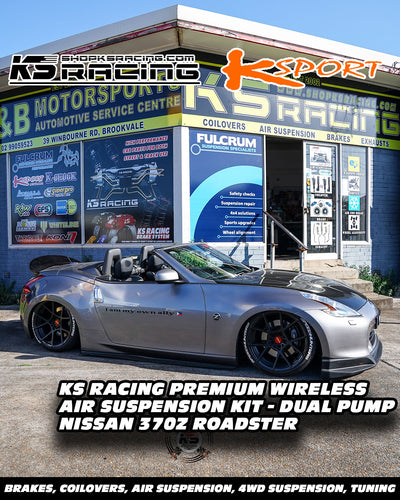 Nissan 370Z Roadster | KS Air Suspension System | KS RACING SYDNEY WORKSHOP
➖➖➖➖➖➖➖➖➖➖➖➖➖
After a few months of planning, Paulo brought down his his 370Z Roadster all the way from South Rocks.
Paulo had a vision from day 1 of owning the car of how he wanted the car to look.
One of the final pieces to the build was a set of air suspension that he could trust and engineer.
And that's what we supplied. Our KS RACING Premium Wireless Air Suspension Kit with dual pump setup.

➖➖➖➖➖➖➖➖ ➖➖➖➖➖
🚗 Instagram:

 

@paulosagragao
🎥 Instagram:
🧥 KS RACING MERCHANDISE
https://shopksracing.com/collections/...
➖➖➖➖➖➖➖➖ ➖➖➖➖➖
🖥 : www.shopksracing.com
🖥 : www.ksracing.com.au
☎️ : 02 9905 9523
📧 : info@ksport.com.au
📍 : 39 & 43 Winbourne Rd, Brookvale, 2100, NSW
🔵Facebook : KS RACING TEAM AUSTRALIA
https://www.facebook.com/KSRacingTeam...
🔴YouTube : KS RACING AUSTRALIA
https://www.youtube.com/channel/UCPVr...
🔵Instagram: KS RACING TEAM
https://www.instagram.com/ksracingteam/
➖➖➖➖➖➖➖➖➖➖➖➖ ➖
#ksracing

 

#ksracingteam

 

#ksracingairsuspension

 

#ksportcoilovers

 

#ksportaustralia

 

#ksport

 

#airridesystem

 

#airridesetup

 

#nissan

 

#slammed370z

 

#370z

 

#carporn

 

#coilovers

 

#stancenation

 

#northernbeaches

 

#nissan370z

 

#370zroadster

 

#stancenation

 

#airbagged

 

#slammed

 

#bagged

 

#loweredlifestyle

 

#brookvale

 

#superstreet

 

#370z_nation

 

#slammedsociety

 

#slammednation