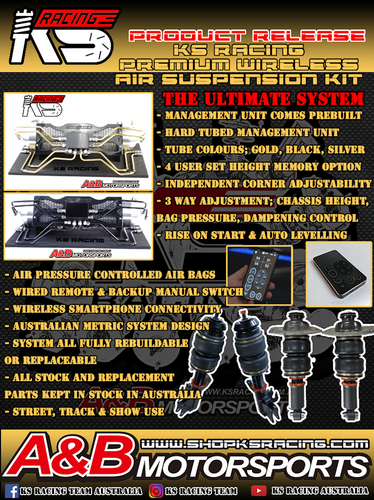 KS RACING Premium Wireless 5G Air Suspension System 
Note: Installation for any Air Suspension Kit should on be carried out by a certified mechanic who has great understanding of air suspension systems and the process in installing them. Very simple installation method for those that understand what they are doing, yet very dangerous if done carelessly. 
KEY FEATURES:
Already built hard tube management unit, as seen in photos
3 User Set Memory Height Controls
1 Additional Memory For Quick All Air Out Of Each Corner
Wired Handheld Remote Control with Screen Display
Wireless Smartphone Application for Wireless Bluetooth Control
Manual Backup Switch
Auto Rise On Start 
Air Out On Ignition Off
Auto Levelling
Calibration Precision - Low, Medium, High
KSPORT Coilovers with KS Air Bags
Australian Metric Design - 8mm air hose and fittings.
System All Fully Rebuildable or Replaceable.
All stock and replacement parts are kept in stock in Australia.
Introduction: 
KS Racing Air Suspension Kits features an air bag coilover design proven to handle both the street and track worlds. Take advantage of the three level adjustment, 33 levels of dampening and rebounding settings, vehicle chassis height adjustment via the lower foot, as well as pressure control of the bags themselves.
The kits are designed for a simple easy installation, with the management system all pre-built, just required to run simple power cables and connect up the air hoses to each corner. All hoses, wiring and installation manuals are included.
Impeccable Installation Process: 
With our most recent version of the KS RACING Air Suspension Kit, we have redesigned the entire management unit and have integrated the ECU with the control box to one unit to have a sleeker and tidier appearance.
Our kits have the management unit all built on our display board. Users don't have to worry about mounting each individual part, all that is required is to mount the board itself as everything on top is all made up ready to go.
The wiring installation is very easy, 12volt power cable to the ignition and positive and negative power cable.
Flawless Ride Quality & Reliability: 
Within the KS RACING Air Suspension Kit, it includes a full set the high performance KSPORT Air Bag Coilovers. 33 levels of dampening and adjustment, vehicle chassis height adjustable via coilover lower foot and air pressure control of the air bags.
The KS Racing Air Suspensions Kit, doesn't just allow for changes in vehicle height via air pressure, ride height can also be achieved by adjustment via the lower foot.
Adjustment of the air pressure does not just allow for changes in vehicle but also the comfort and ride of the vehicle. Higher air pressures for sturdier hard ride, lower air pressures for softer ride.
Each compressor comes with 4 snubbers and high-tech silencers to increase noise suppression.
Remote Control Adjustment:
With the included wired remote control & downloadable smartphone application, the system allows you to adjust the bag pressures to determine the height of the car.
System allows for 3 user set memory controls. For example, height suitable for obstacle clearances, ride height & lower ride height for smooth roads. System has an additional memory for all air out, which releases all air out from all four corners.
Kit will also come with a manual hand switch. Consists of four switches that allows for manual corner of each corner.
After Purchase Support:
All parts in the system are user repairable or replaceable with the parts all kept in stock in our Australia warehouse.
Simplistic LED light display for system working condition, and if not working properly, specific LED lights will display to determine what the problem is.
We have all the repairing and replacing tutorial videos made, so if you are not local to us or sending back the part to us is a problem then we can share these videos to you. 
Shipping Australia Wide
KS RACING x AIRLLEN Air Suspension kits are available for a wide range of models and makes. Feel Free To Send Us A Message To See If We Have Your Vehicle's Kit In Stock.
Custom Kits Are Also Available.
AUSTRALIA WHOLESALES: KS RACING
39 WINBOURNE RD, BROOKVALE, NSW, 2100
02 9905 9523