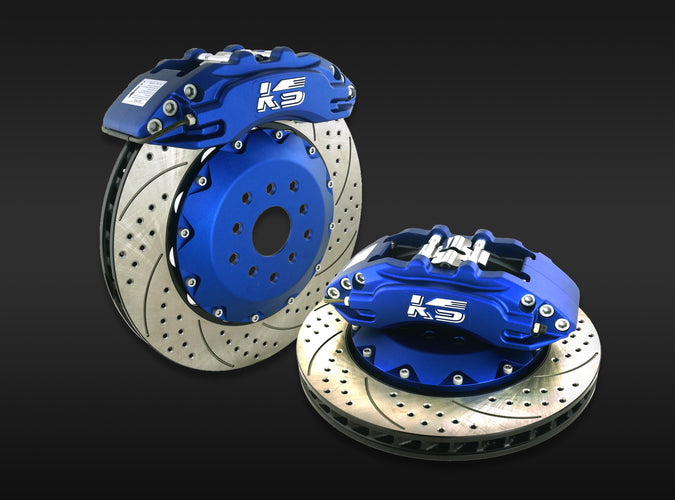 KS RACING Brake Systems
KS RACING Brake Systems brings not only function to stop whatever horsepower your vehicle is producing but also to bring a touch of art to the appearance whilst providing safe driving. 
Light Weight Racing Calipers
Our most popular KS Racing Calipers are milled by 3D CNC which features lightweight, durability and strength characteristics. The pistons are made by complex titanium materials. KS Brake calipers conquers the race track by having exceptional heating capabilities and enhanced braking powers that is suitable for all makes and models whether they are making small or big power.
Anodised in Orange, Black, Yellow, Red, Blue and Silver are our standard colours. Custom colours are also available that can be requested upon from our colour pallet at an extra charge. If your desired colour is not part of our colour pallet we can also specific customised our calipers to the colour you desire.
Two Piece Disc
Discs come as a two-piece design with the centre bell made of aluminium to lower unsprung weight. The design of arc vents provide a better function of heat dissipation and lower the discs temperature in a short moment. All the metal parts are applied with high standard anticorrosive finish work.
We have three disc designs that are available to be selected upon customer's preference. We offer drilled disc, slotted disc and a combination of both drilled and slotted disc. 
Floating Disc
The floating connection allows the disc to move slightly as well as keeping the disc and bell centred which increases the heating capabilities. With abilities to expand and contract, the discs eliminates the vibration caused from high speed (240-300km/hr) braking forces.
Recommendation
We recommend you to choose the same rotor size for both front and rear when you purchase our KS RACING Brake kits. The reasoning is that our recommendation braking power ratio for fronts to the rears is 7:3. Therefore if you choose the same rotor size for front and rear, the brake balance will be the best. Our most popular full front and rear kits consists of Front 6 Piston Calipers with 330mm or 356mm Discs and Rears with 4 Piston Calipers with 330mm or 356mm Discs.
KS RACING Brake Systems Generally Include:
2x Brake Calipers
2x Brake Discs
2x Caliper Mounting Brackets
4x Brake Pads
2x Brake Hydraulic Hoses
1x Work Bag
1x Brochure