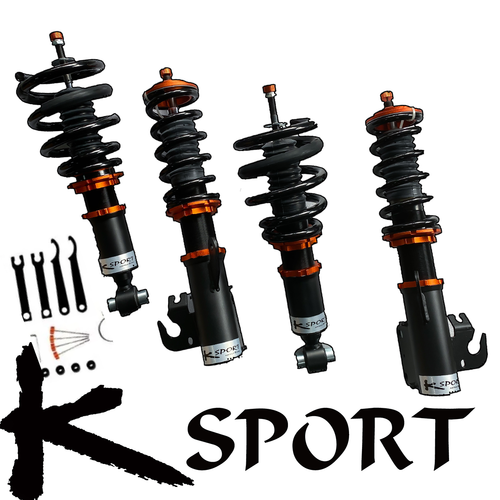 KSPORT Coilovers
KSPORT coilovers are designed and developed for all motoring enthusiasts wanting excellent handling without sacrificing comfort. This suspension system features 33-way adjustable dampening settings and full length adjustment to meet every driver's handling desires. Pillow ball mounts and adjustable camber plates are included for front and rear on most kits to increase steering response, while aluminium upper mounts with hardened rubber bushings are used on some applications for noise reduction. This suspension system is ideal for daily driving and occasional track use.
High quality components are adopted to ensure product durability and stability. Each application is fully test fit and completely road tested to guarantee all our customers perfect performance and comfort.
Mono Tube Design
Mono Tube Coilovers place the oil reservoir and a high-pressure gas charge in a line inside a single shell. A 'floating' piston separates the liquid and gas. This arrangement allows the gas itself to become a greater part of the spring action. It compresses slowly over smaller bumps and more quickly through bigger hits, theoretically improving control and response. Mono Tube Coilovers allow for faster rebounding which improves cornering and the handling of the vehicle.
Dampening Forces
33 Levels of Dampening Settings are available. This is to be able to adjust the dampening to meet the requirement for street and track use and have a perfect handling capability specific to the driver.
Adjustable Lower Mount
Ride height and preload adjustments are available by adjusting the bottom mount. Lightweight aluminium bottom mount are used to reduce the weight and to have the ability to dissipate heat.
Springs
Street damper are equipped with the best spring rates in order to meet the requirements of customers. Higher or lower spring rated springs are optional upgrades if required by the customer.
Anti-Rust Treatment
All threaded parts are covered with fluorine in order to prevent rust or adherence. The aluminium bottom mount is anodised to prevent rusting.